As a fan of Batman, I devoured the New 52's Batman, Detective Comics, Dark Knight and even Batman Inc.! In fact, the only Bat-title I didn't end up reading was Batman and Robin. I only realized this once I noticed that it was collected into a hard cover graphic novel as Batman and Robin Volume 1: Born to Kill. So, wanting to see what I missed out on I just had to give it a read right away, and by the end of it I was regretful that I hadn't picked up on the series earlier as it definitely stands out as one of the strongest Gotham-based series going right now.
            The story follows Bruce Wayne and his son, Damian, who's also his sidekick. As they fight crime together, Bruce also trains the boy into a restrained and effective fighter, hoping to mold Robin into an image of himself moreso than his mother, Talia Al'Ghul, the woman who raised him from birth as a merciless killer. The narrative takes on a more interesting dynamic due to this sub-plot, and goes deeper than just action scenes with the Bat and Boy Wonder beating up Gotham's worst. It constantly keeps the character of Robin entertaining as he's presented as someone who could go off at any moment, let go of himself and do what Batman has avoided for many years in his crime-fighting career. Bruce acknowledges this danger as well, and asks Alfred for his opinion and advice from time to time as it seems too much handle at moments. Through various scenes we discover that Damian's troubles run even deeper than what we'd expect, and that there really is a sense of urgency to this.
All the while that these psychological problems are being held in check, there's a villain known as Nobody who has a vendetta against the Batman and is out to exploit Robin's weaknesses in order to finish the Dark Knight once and for all. Without spoiling too much, the story twists and turns as the tide of battle ebbs and flows from one side to the other.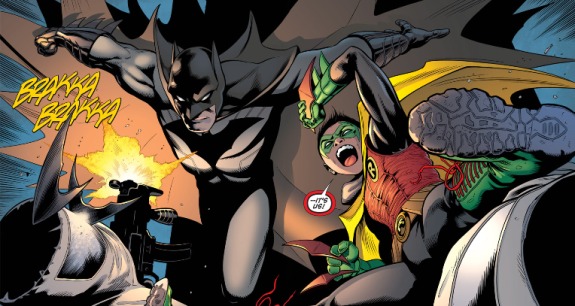 Something that I enjoy about the New 52, this title included, is how much effort they put into integrating new readers into the existing mythos. The back-stories of characters such as Henri Ducard, Damian Wayne and Talia Al'Ghul are perfectly explained, but also told engagingly enough that older readers already knowledgeable about the history behind these characters won't feel bored. This is a book that's enjoyable for both dedicated fans of the Dark Knight and those just dipping their feet into the deep pool of his comic book history.
Batman and Robin: Born to Kill is written by DC veteran Peter J. Tomasi, and the art is done by Patrick Gleason and Mick Gray, and it's available now at all Big B Comics locations for only $24.99!
-Marko